Wednesday, September 30, 2009
The Annual Rocktober.Com Holiday Message
(like The Queen's annual holiday greeting, with a funky back beat and a crazy guitar solo from Buckethead)
Happy Rocktober 2009!!
I would just like to take a quick moment here to wish everyone a very happy Rocktober.
Yes, kids, it is that time of year again-- the time of year when the leaves turn hues of yellow and brown, when Mother Earth blesses us with her sweet harvest and children of all ages from around the world don KISS face-paint while moms, dads, same sex life partners, baby daddies and stoner cousins teach them HOW TO ROCK!!!!!
Rocktober has no figureheads. Nary a Santa Claus, Easter Bunny, Turkey Made From A Tracing Of Your Hand, St. Patrick or Great Pumpkin to be found. Why is this? Because Rocktober comes from you. It is about you not being a square from Delaware, wearing clean underwear and throwing your hands in the air as if you had not a care in the world. It is about being caught up in a mosh. It is about passing the dutchie-- on the left hand or right hand side, it doesn't really matter. It's about getting the band back together for just one more show. It's about practicing your scratching technique for hours on end and then making it look simple during a show.
Rocktober is about Mandatory Metallica Monday, Two For Tuesday, No-Repeat Wednesday, All Request Thursday and The Friday Top Five At Five. It is the All 80's Request Lunch Hour, the All Old School Weekend and the Top 1000 Oldies Memorial Day Weekend Countdown. Rocktober is about watching "This Is Spinal Tap" for the millionth time and still laughing. It is about latching on to a band early in their career and then complaining about the new fans who come along once they sell out to The Man.
Speaking of The Man-- Rocktober is about sticking it to The Man while sucking up to his corporate teets.
No disrespect to you rockers in Colorado, but what Rocktober certainly *isn't* about is an expansion baseball team pinning its hopes on securing a wild card spot in the play-offs.
God gave rock n' roll to you.
Keep on rockin' in the free world
Here I am, rock you like a hurricane.
We will rock you.
Rock n' Roll is alive (and it lives in Minneapolis)
You can't stop the rock.
Happy Rocktober, Everyone! \m/ \m/
http://www.rocktober.com/blog.html
posted by
Randy
on 10:16 PM |
permanent link to this entry
Sunday, September 06, 2009
Cough Cough Cough
. . .that's what I sounded like when I woke up this morning. The healing power of 'Tussin is getting me through the day.
Extract was good. Not great, but not to shabby either.
I went to dinner at Big Mouth Burger in the Mission. Mmmmmmm it was good.
Afterwards, I walked around the Mission for a bit. It is always interesting to do so during the big
Burning Man weekend. Pretty quiet compared to how it usually is. In my travels, I cam across an Klezmer
Jazz band playing on the street: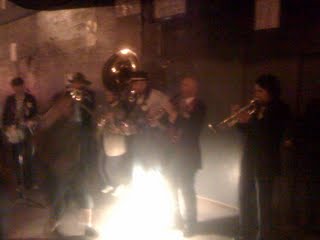 They rocked it out. People were literally dancing in the street. Madness!
There was a 60s soul night at the Elbo Room, so I dropped in for a spell. The music was killer but it was way crowded. i had no idea the Kids Today were so up on their Northern Soul!
I miss you much and hope you are having a grand ol' time. The dryer is still in a state of disrepair, so don't bring home too many dirty clothes. :-) xxxxoooo
posted by
Randy
on 2:38 PM |
permanent link to this entry
Friday, September 04, 2009
Here's The Big News
-Yer boyfriend Barack Obama is gonna give a nationally televised "stay in school" speech to children and conservatives are up in arms that is is wasting a child's school day to do it with.
-They finally buried Michael jackson.
ummm, uhh that's about it.
I'll probably go to a matinee sometime this weekend to see Extract, the new flick from Mike Judge (Office Space, King of the Hill).
I miss u very much. The dryer is still effed up. Which reminds me of some cockney rhyming slang I am thinking of inventing and populating. Fuck = Eff = F = F. Scott Fitzgerald = Gatsby. Oh, Gatsby! The dryer is still Gatsby-ed up! Gatsby it all!
See how much I miss you -- this is what I am forced to do to entertain myself when you are not here. i hope you are having fun on the Playa but not Gatsbying anyone else.
xooo
posted by
Randy
on 4:33 PM |
permanent link to this entry
Wednesday, September 02, 2009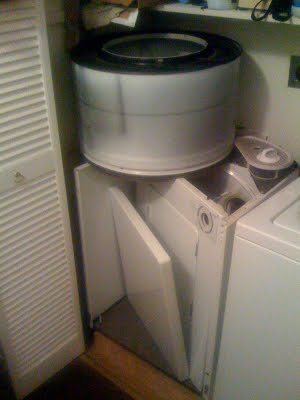 So, The Dryer Repair Guy Came...
I hope he comes back!
Yes, I am posting this at almost 2 am. work is...omg crazy. I miss u much! Hope u are having a blast!
posted by
Randy
on 1:50 AM |
permanent link to this entry
Monday, August 31, 2009
Day 4
Whoa, an e-mail from the playa! That's crazy talk!
Worked hard all day. Pushing releases wasn't the same without you.
I hope uou are having a grand ol' time! xxxoo
posted by
Randy
on 11:39 PM |
permanent link to this entry
Day #3
Hi babe Miss you! Hope you are having a grand ol' time!
Today i:
-Dropped off the rent (but didn't tell them about the dryer yet because they were away from the office. Harumph!)
-Saw Inglorious Basterds at The Castro. i lied it a lot but it woulda been too gory and tense for you, me thinks. Also kinda long.
-Two slices o pizza for lunch.
-Saw a dark comedy directed by Bobcat Goldthwait and starring Robin Williams called World's Greatest Dad. I liked it. It was playing at The Bridge.
-Watched Mad men. SOme real stunners this episode, I saved it for you.
-Leftover Spaghetti and Jar Sauce for dinner.
I miss u much!
posted by
Randy
on 12:18 AM |
permanent link to this entry
Sunday, August 30, 2009
Day #2
Watched a documentary about rich NYC parents trying to get their kids into pre-schools. Total lunacy! Watched a documentary about Marion Barry. Interesting. Shaved my head -- feels so much better in the heat to be rocking the Funky Bald Head.
Yer girl Stella is all talk! I reminded her that you would be out of town all week and she said she prefered to keep me in her rich fantasy life. I can only hope that in her fantasy life I am rich. That would be a nice change.
Bachelor Chow Report: Can of chilli for lunch. Spaghetti and Jar Sauce w. Ground Turkey for dinner. Mmmmmmmmmmmmmmm.
Tomorrow I am gonna see Inglorious Basterds at The Castro and a World's Greatest Dad, a dark comedy starring Robin Williams and diected by Bobcat Goldthwait, at The Bridge. And then come home for Mad Men, True Blood, Hung and Entourage. I'l save Mad Men and Entourage for ya.
I love you and miss you very much. i hope you are having a wonderful time with the modern freaks.
xxxxoo
posted by
Randy
on 2:26 AM |
permanent link to this entry
Friday, August 28, 2009
It's That Time Of Year Again
My best gal is off to
Burning Man
, so I'll be updating this blog incase she is able to somehow find some connectivity and check-in on me.
According to my logs, people are still hitting this ling-dorment site looking for really old music news. Believe it or not, people are still hitting this site looking for an explanation as to why 3LW broke up (one chick split after a food fight that was allegedly a result of tensions bubbling up in the group after she wouldn't sleep with someone in Nelly's posse in exchange for a tour slot. Let me stress again, allegedly.)
Anyway, to those folks - -welcome! Where were you years and years ago when I was doing this on a daily basis? And to my gal -- I miss you, babe! Stay safe and come home soon!
posted by
Randy
on 9:19 AM |
permanent link to this entry